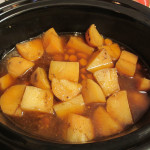 Since winter weather is still hanging around, even though the calendar says it's spring, here's a recipe that makes meal preparation easy, because it contains meat and vegetables, and makes your house smell so good!  Enjoy!
Chuck Roast Barbecue
Ingredients:
1 (2 to 2 ½ pound) boneless chuck roast, trimmed
2 med. onions, chopped
¾ c. cola carbonated beverage
¼ c. Worcestershire sauce
1 T. apple cider vinegar
2 cloves garlic, minced
1 tsp. beef bouillon granules
½ tsp. dry mustard
½ tsp. chili powder
¼ tsp. ground red pepper
½ c. ketchup
2 tsp. butter or margarine
Hamburger buns
Directions:
Combine roast and chopped onion in a 4-qt. slow cooker.  Combine cola, Worcestershire sauce, vinegar, garlic, bouillon, mustard, chili powder, and red pepper; reserve ½ c. of this mixture in the refrigerator.  Pour the remaining mixture over the roast and onions.  Cook, covered, on High 6 hours or Low 8+ hours, until tender.  The dish can be served as a roast or it can be shredded and served on buns.  Combine the reserved ½ c. cola mixture, ketchup, and butter in a small saucepan.  Cook over medium heat, stirring constantly just until thoroughly heated.  The sauce can be poured over the shredded roast or served individually as an accompaniment with the roast.
Note: the roast can be browned in oil before it is cooked, then drained on paper towels before putting in crock pot.   Add peeled and cut carrots, and peeled and quartered potatoes, for a complete meal.  If carrots and potatoes are added, consider  doubling the mixture to cover the roast and carrots and providing more liquid for cooking.   Store left-over meat in the cooking liquid, then reheat the meat in the liquid.
Serve with the blueberry muffins (separate recipe).