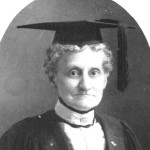 Emma A. Lehman was born on this day in 1841, in Bethania, to Eugene and Amanda Butner Lehman.
She attended Salem Academy and graduated at the age of 16.  Her first teaching position was in a public school in Bethania, and from there she taught in her uncle's home in Pilot Mountain.
She began her lengthy teaching career at Salem Academy and College in 1864, and taught continuously for 51 years.  Emma took charge of the senior class in 1878, and retained this position until her retirement.  During her last years at Salem, she devoted her coursework to English literature.
Emma found time to write poetry, and a volume of her poetry was published in 1904.  She traveled to Europe for the summer in 1889, and wrote a travel sketch upon her return which was also published.
She enjoyed the study of botany, and discovered a new plant which she sent to Albany, New York for examination.  The plant was named for her, Monotropsis Lehman.
After her retirement, Miss Lehman continued to live at Salem College, and was visited often by her former students.  Although she was a firm disciplinarian, she took a personal interest in her students, and they responded with respect and affection for their former teacher.  Several volumes of the Salem College yearbook were dedicated to Miss Lehman.
And, the steps in front of the President's Residence (Annex Hall), are inscribed, "E. A. Lehman Memorial, By Her Girls, 1864-1914."  This building was used as the Senior Annex at one time.
Miss Lehman passed away in 1922.
Photo courtesy of Forsyth County Public Library Photograph Collection.