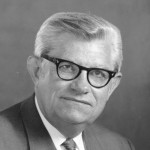 Franklin Ray Shirley was born on this day in 1914, in Kentucky.
Dr. Shirley earned his bachelor's degree at Georgetown College, his master's degree in speech from Columbia University, and his doctorate in speech from the University of Florida.  He joined the faculty of Wake Forest College in 1948 as an instructor, and was promoted to professor in 1964.
Dr. Shirley was chairman of the speech department at Wake Forest from 1961 to 1974, and coached the school's debate team for 19 years.  He served as president of the Southern Speech Association and as first vice president of the American Forensic Association.  He retired from Wake Forest University in 1983.
In addition to his work at Wake Forest, Dr. Shirley served as a member of the school board and the Recreation and Parks Commission.  He served as an alderman from 1963 to 1970, and as mayor from 1970 to 1977.
During the years he was mayor, he read letters on the radio from children to Santa Claus at Christmas.
Dr. Shirley passed away in 1985.
Photo courtesy of Forsyth County Public Library Photograph Collection.