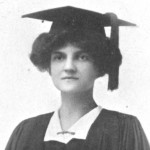 Elizabeth Grogan Trotter was born on this day in 1893, in Winston-Salem, to Jefferson (Jeffrey) Scales and Mary Perkins Grogan.  Her father was a native of Rockingham County and came to Winston-Salem in 1873 and practiced law.
Elizabeth attended the local schools, and graduated from Salem College in 1912.  The above photo shows Elizabeth in her Salem graduation photo.
She married Alexander Graham Trotter Jr. in 1919 in Mount Airy.  They lived in Charlotte, where her husband worked at a bank.
After her husband's death in 1929, Elizabeth and her daughter, Betsey, moved to Winston-Salem to live with Elizabeth's mother and sister.
Elizabeth was a member of St. Paul's Episcopal Church and she was a member of the Salem College Alumni Association.
Elizabeth passed away in 1980.
Photo courtesy of Forsyth County Public Library Photograph Collection.