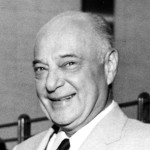 George William Coan Jr. was born on this day in 1892, in Virginia, to George W. and Loula Brown Coan Sr.
George came to Winston-Salem in 1899 when his father accepted a position with R.  J.  Reynolds Tobacco Company.   George graduated from Davidson College in 1911 and had one year of training in commercial law at Harvard University.
He worked for R. J. Reynolds Tobacco Company for a few years, then he and his father organized the Morris Plan Bank in 1917.  George Jr.  was elected president of the bank, which later became City National Bank, and even later was called First Union Bank.
George was elected mayor of Winston-Salem in 1929, and served until 1935.  When he left office, he was given two silver urns, in appreciation for his "unselfish, devoted and efficient service."  Members of the Board of Aldermen credited Mayor Coan with keeping the city in good financial standing following the depression.  This was accomplished by analyzing the city budget and departments, and making the city government as efficient as possible, while not reducing services to citizens.
One month after he left office as mayor, he accepted the position of Works Progress Administrator for North Carolina.  He served in this position for four years, and the local projects that were completed during his tenure were Bowman Gray Stadium, Reynolds Park, and Smith Reynolds Airport.
George was elected to another term as mayor in 1942 and served until 1945.
He was involved in the establishment of Tanglewood Park, and was a member of the Twin City Club and the Kiwanis Club.  He was a founder and charter member of Forsyth Country Club.
George passed away in 1975.
Photo courtesy of Forsyth County Public Library Photograph Collection.