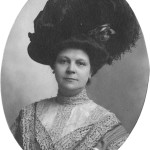 Mary "Mollie" McCoy was born on this day in 1863, in Wentworth, to Josiah and Elizabeth Ellington McCoy.
Mollie's mother was a seamstress who wove her own cloth and owned one of the first sewing machines in her area.
Mollie attended Reidsville Female Seminary and was shown to have a talent for clothing design.  She designed clothes for her younger sisters and classmates.  She took courses in fashion design in New York City and opened a shop in Reidsville.
Mollie married Thomas Wheeler Hancock, a tobacconist, in 1884.  She and her husband moved to Winston-Salem about 1907, where she opened a dressmaking shop.  Her husband referred to Mollie as "the madame," and she was known to her clients as "Madame Hancock."
Madame Hancock made frequent trips to New York to purchase fabrics and notions to make her creations for her Winston-Salem clients in the latest styles.
Reports are that at one time she employed 40 seamstresses in her shop.
In the 1918 publication, "Winston-Salem: City Of Industry," Madame Hancock was the only woman pictured with her business write-up.
Mollie's eyesight failed and she moved to Greensboro several years before her death in 1951.
An exhibit on Madame Hancock's life in Rockingham County opened in the spring of 2014 at the Museum and Archives of Rockingham County (MARC), in Wentworth.
Photo courtesy of Forsyth County Public Library Photograph Collection.