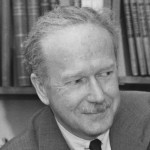 Jens Frederick Larson was born on this day in 1891, in Boston, to Leonard L. and Andresigne Anderson Larson.
He was a student at the Boston Architectural Club, then attended Harvard Graduate School.  He served in World War I as a captain in the Canadian Air Force attached to the Royal Flying Corps.  Jens is credited with having shot down 15 German airplanes.  He was a highly decorated soldier.
After the war his first job was to design a building development plan with Dartmouth College.  Supposedly that work set him on a course to work exclusively with college designs.
He is known locally for his design of Wake Forest's campus in Winston-Salem.  He also designed Davis Chapel at the Baptist Hospital and the Bowman Gray School of Medicine.
He said that he knew at the age of 12 that he wanted to be an architect.
He received many awards and degrees from a variety of colleges.
Jens married Elisabeth Goodale Frost in 1920.  He passed away in 1981.
Photo courtesy of Forsyth County Public Library Photograph Collection.