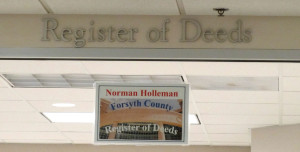 The Forsyth County Register of Deeds office announced on this day in 2013, in the Winston-Salem Journal, the launch of the Permitium system.
The Permitium online order and payment system began operation at the first of December.
With the Permitium system, people can request and pay for certified copies of birth, death and marriage certificates online, using credit cards.  To examine the new system, see the Register of Deeds website: www.co.forsyth.nc.us/ROD/
Photo of the Register of Deeds office in the Forsyth County Government Center by Molly Grogan Rawls.