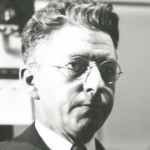 Melville Prongay was born on this day in 1893, in Rochester, New York, to A. Frank and Ann Dyson Prongay.
He spent his early years in Rochester, and served in World War I.
After the war, he worked as an apprentice engraver for the Rochester newspaper.  He was a journeyman for seven years, then came to Winston-Salem in 1923.
He established Piedmont Engraving Company, which was located in the Masten Building at Fourth and Main Street.  In 1937, the company moved to the Journal and Sentinel building.
Melville was active in scouting, and received his 25-year veteran award shortly before he passed away in 1962.  He held several honors in scouting, and was a member of the executive board of the Old Hickory Council of the Boy Scouts of America.
He was married to Ruth Griffith Prongay.  At the time of his death in 1962, he was president of Piedmont Engraving Company.
Photo courtesy of Forsyth County Public Library Photograph Collection.