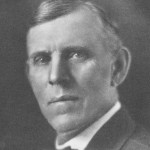 Oscar Benjamin Eaton was born on this day in 1858, in Davie County, to Jacob and Mary Clement Eaton.
He attended a school operated by his sister, Mattie, and he worked on the family farm.  He attended the University of North Carolina, but had to leave because of poor health before graduating.
Ben taught school for two years, and was a principal at Farmington for four years.
He came to Winston in 1885 and worked as treasurer of the B. F. Hanes Tobacco Company for twelve years.
Ben married Mary Gaston Hough.
He was elected Mayor of Winston in 1894 and served until 1912.   Then he served one term as Mayor of Winston-Salem, leaving office in 1917.  He was a popular mayor and an influential public official.  He was also an able speaker and was in demand for public occasions. His popularity spread throughout this section of North Carolina.
After his terms as mayor, he worked in the real estate and loan business. He also devoted time to war work, participating in the Liberty Loan and Thrift Stamp drives.
He passed away in 1945.
Photo courtesy of Forsyth County Public Library Photograph Collection.