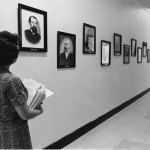 On this day in 1949, the portraits of former Winston-Salem mayors were hung on a wall in the mayor's office in City Hall.
The framed portraits were removed from storage, and the current mayor, Marshall Kurfees, oversaw the portraits being relocated.
The above photo shows the portraits displayed on a wall in City Hall, which was done at a later time.
Photo courtesy of Forsyth County Public Library Photograph Collection.