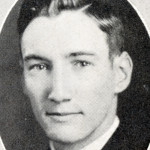 Gabriel Ellis Ashburn Jr. was born on this day in 1914, in Forsyth County, to Gabriel Ellis and Ollie Hastings Ashburn.
He attended R. J. Reynolds High School and graduated in 1933.  He served in the U. S. Army during World War II.
He was the owner and operator of Ellis Ashburn Stationary Company.
He was married to Lorraine Long and was a member of St. Leo's Catholic Church.
The above photo was in the 1933 R. J. Reynolds High School yearbook.
Photo courtesy of Forsyth County Public Library Photograph Collection.