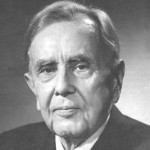 Dr. Samuel Frederick Pfohl was born on this day in 1871, in Salem, to Christian Thomas and Margaret Siewers Pfohl.
Dr. Pfohl was educated at Salem Boys School and graduated from the University of Pennsylvania Medical School.  He also studied at Boston Emergency Hospital to acquire clinical experience.  In fact, he read and studied throughout his medical practice, to stay current of new advances in medicine.
He is credited with bringing the first cardiograph machine to Winston-Salem, after he took time from his practice to study Electrocardiography.
He was primarily a general practitioner, but also included obstetrics in his practice.
Dr. Pfohl served as physician of Salem Academy and College for more than forty years.  He was one of the first members of the staff at the new City Memorial Hospital, when it opened in 1914.
"Dr. Fred,"  as he was called by most of his patients, always had his medical office in his home, so that he was near his family.  He was reportedly a man of few words, but was extremely generous in providing medicines and blankets for needy patients.  He kept his fees low and thereby influenced the medical fee structure for the entire city.
Dr. Pfohl passed away in 1961.
Photo courtesy of Forsyth County Public Library Photograph Collection.