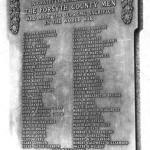 On this day in 1921, Winston-Salem celebrated its first community-wide Memorial Day observance.
The festivities included a parade, a tribute to soldiers buried at Salem Cemetery, and the presentation at the courthouse of a memorial tablet listing names of local soldiers who died in World War I.
The memorial tablet lists 69 men.  It was erected by the Women's Club of Winston-Salem and the Clyde Bolling Post No. 55 of the American Legion.
The above photo shows the memorial tablet.
Photo courtesy of Forsyth County Public Library Photograph Collection.