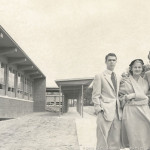 On this day in 1956, Prince Ibraham School was dedicated, named for Prince Ibraham, former vice chairman of the Forsyth County Board of Education who died in 1954.
In the above photo, Gerald and Jack Ibraham, sons  of Prince Ibraham, stand on each side of their mother, Sue, with the new school in the background.  A portrait of Prince Ibraham was presented to the school, and was accepted by G. S. Coltrane, chairman of the school board.
The school was opened to the primary grades in the previous fall, and more classes were brought over  from the White Rock School in December.
The 1956 school had aged to the point that it needed to be replaced, and a new school opened at the same site in 2009.
Photo courtesy of Forsyth County Public Library Photograph Collection.