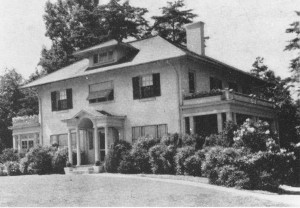 On this day in 1926, an article in the Winston-Salem Journal reported that 65% to 70% of the voters in the Buena Vista section are in favor of having their property incorporated by the city.
Proponents of incorporation list among the advantages of being in the city, that parents will forego the $65.00 per child fee to attend city schools.  Other advantages are: better police protection, better lighting of streets, better fire protection, and the guarantee of a permanent water and sewage system.
Water systems have been installed by the development company, but these will be left to the individual owners as soon as the company has disposed of its lots.
As of the date of this article, seventy-five people have registered to vote, and 200 are expected to register before the closing date of August 28th.
An election will take place on September 7th.
Approximately 25 to 30 people oppose incorporation, and they are persons with farms or large houses and a few others.  Home owners will pay a city tax rate of $1 on each 100, but they will forego the 25 to 35-cents per week for garbage service, plus the school fee.
The photo above shows the Arline Messick house on Buena Vista Road about 1928.
Photo courtesy of Forsyth County Public Library Photograph Collection.