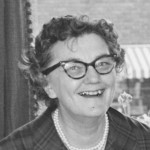 Frances Burkhead Griffin was born on this day in 1916, in Asheboro, to Carl Burdette and Fannie Burkhead Griffin.
Frances attended school in Asheboro and in Thomasville, where she moved in 1929 with her parents.  She graduated from Greensboro College with honors and with a degree in English.  After graduation, Frances worked as woman's editor of the Thomasville Tribune.  She was also a correspondent for the Greensboro Daily News and the Winston-Salem Journal.
She joined the staff of the Twin City Sentinel in 1941, and worked there as reporter, assistant city editor, columnist, and an arts reviewer until April 1955.   At that time, she joined the editorial staff of the Winston-Salem Journal and Twin City Sentinel.  Her new position made her the only woman on an editorial page staff on a major daily newspaper in North Carolina, and one of the few in the nation.
After she retired from the newspaper, she embarked on a new career when she joined the staff of Old Salem, Inc.  Frances became the director of information for Old Salem, Inc., and instituted Old Salem's Publications Program.
Following her retirement as director of information in 1982, Frances continued to work part-time, and edited several books for Old Salem Inc.  She was the author of three books on Old Salem and Salem Academy and College.
Frances was involved in the founding of the Arts Council, and was the first recipient of the Arts Council Award for service to the community in the field of the arts.
Frances also served on many boards of directors for local organizations.
Frances passed away in 1991.
Photo courtesy of Forsyth County Public Library Photograph Collection.