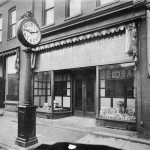 On this day in 1954, the Fred N. Day clock was removed from its home on North Trade Street.
The clock was sold for $140.00 and moved to Salisbury.
The clock stood on the sidewalk in front of Fred N. Day's Jewelry Store on North Liberty Street for several years.  When the jewelry store relocated to North Trade Street, the clock was moved also.
But, when the jewelry store moved farther down North Trade Street, the city did not permit the clock to be moved to the new location.  So, it was sold.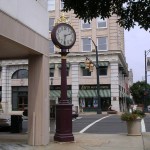 The clock is located in downtown Salisbury today, helping residents there mark the time from its corner location.
Black and white photo courtesy of Forsyth County Public Library Photograph Collection.
Color photo courtesy of Molly Grogan Rawls.