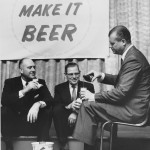 On this day in 1969, the Joseph Schlitz Brewery had its first beer production run.
Located on Barnes Road off U. S. 52, the new Schlitz plant's first beer production run totaled 4,500 cases of beer.  The first run was primarily to test equipment and to check the functioning of the operations.
A newspaper article the following day reported that the Schlitz officials said they "were highly pleased" with the operation.
The new Schlitz plant was the second one operated by the company.  It cost about $50 million to build and it will employ between 400 and 500 people.
Photo courtesy of  Forsyth County Public Library Photograph Collection.