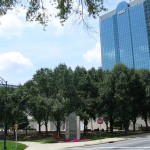 On this day in 1987, Corpening Plaza was dedicated as a new park, located at the corner of Liberty and First Streets.
The park area was named for Wayne Corpening, Winston-Salem mayor from 1977 to 1989 .  To read more about Wayne Corpening, see the post on May 14, his birthday.
The site of Corpening Plaza was earlier occupied by Brown and Williamson Tobacco Company.  The following photo shows the tobacco company buildings that were located on this property.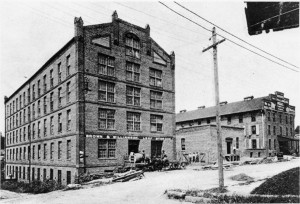 Color photo by Molly Grogan Rawls.  Black and white photo courtesy of Forsyth County Public Library Photograph Collection.