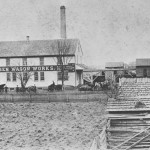 John Israel Nissen was born in Waughtown in 1841 to John Philip and Mary Ann Elizabeth Vawter Nissen.  His father, John Philip Nissen, established the Nissen Wagon Manufacturing Company in 1834.
John Israel's grandfather, Tycho Nissen, was from Denmark, and came to Salem in 1770 at the age of 38.  He brought with him the knowledge of his craft, which was wagon-making.  Shortly after he arrived in Salem, he traveled to Bethania to expand this knowledge of the craft.  Tycho's sons, John Philip and Christian, learned the craft from their father, and the company was owned by descendants of Tycho until 1925, when it was sold.
Nissen wagons were known for their high-quality of workmanship, making them well-suited for the rough travel of pioneers over the prairies.  The prairie schooners carried pioneers over deserts and mountain ranges, as they pushed westward to the Pacific waters and to strike gold in California.
The wagons were used for transportation over the plank road from Salem to Fayetteville, and were used to haul tobacco and other products to market.  Even in the days prior to the closing of the company, the wagons were in demand for hauling timber.
The company and its stock were sold in 1925, and it continued to manufacture the wagons under new management.  But in the late 1940s, lumber supplies were difficult to acquire.  And, the president of the company, F. B. Reamy, died and a suitable replacement could not be found to operate the business.  So the company closed its doors in 1948.  The plant in Waughtown was sold, along with the 30 acres of land and the remaining supplies.
John Israel Nissen worked for the company as a machinist, and also worked on mills and manufacturing plants.  He contracted pneumonia and died in 1899, leaving a wife and three children.
Photo courtesy of Forsyth County Public Library Photograph Collection.