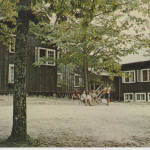 On this day in 1933, the Twin City Sentinel carried an announcement that a tract of 54.64 acres has been given by Fred Hutchins to the YWCA for a permanent camp site.
The announcement was made by Mrs. G. H. Hastings, chairman of the camp committee, who said that the property had been accepted by the YWCA.  The property was located about 2 miles off the Walkertown Road, about 10 miles from the city.
It was hoped that this property would fulfill a long-standing need for a permanent camp for girls and women.  It was located close enough to the city for campers to travel to and from the camp in a very short time.
This site became Camp Betty Hastings, hosting women of all ages in its cabins for short and long-term camping events.
Photo of Camp Betty Hastings courtesy of Molly Grogan Rawls.