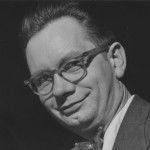 Hans Heidemann was born in Germany on this day in 1911.  He came to the United States in 1926.
His parents played a variety of musical instruments, and Hans began taking piano lessons when he was 10, before he came to the United States.
Hans studied piano at Julliard School of Music, and with private instructors.
He came to Winston-Salem in 1948 to perform for the Civic Music Association.
He received his B. M. Degree from Salem College, and his M. A. Degree from UNC-G.  He taught music at Salem College for 25 years.
Hans performed as a member of the Four Piano Ensemble and the Salem College Trio, and as a soloist with other orchestras.
Hans passed away in 1993.
Photo courtesy of Forsyth County Public Library Photograph Collection.