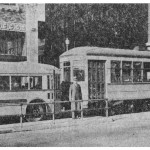 On this date in 1933, an announcement in the Winston-Salem Journal  alerted residents that the bus zone on the east side of the courthouse, on Main Street, will soon be abolished.  Instead, buses will take on and discharge passengers at the safety zones around the courthouse square, effective March 1st.
Another announcement alerted residents to the impending widening of the streets around the courthouse.
The photo shows the safety zone on the opposite side of the courthouse, on Liberty Street.  Both streetcars and buses used the safety zones, until the streetcars left the streets in 1936.
Photo courtesy of Forsyth County Public Library Photograph Collection.