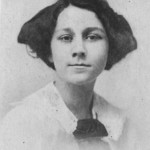 Irene Belle Morris was born in Winston-Salem in 1894, the fifth child in a family of nine children.  She had a twin sister named Louise.  The Morris family lived on Brookstown Avenue.
Irene graduated from City High School on Cherry Street,  where she took the commercial course and learned typing, shorthand, and other skills that she used throughout her working years.
After graduation Irene went to work for Fred Parrish and his law firm.  In 1941 she changed jobs and began her 23-year career with Piedmont Publishing Company and WSJS.  She was secretary to Gordon Gray, W. K. Hoyt, James A. Gray, Don Chipman and Wallace Carroll at Piedmont Publishing Company, and worked for Harold Essex at WSJS.  Irene retired from Piedmont Publishing in 1964, and her retirement was announced on the front page of the Twin City Sentinel.
Irene liked to walk to and from work, from her home on Brookstown Avenue to the Journal-Sentinel Building on Marshall Street, a distance of a mile and two tenths per day. Upon her retirement, someone estimated that Irene had walked approximately 6,696 miles during her 23 years of employment at Piedmont Publishing.
Irene lived 30 years after her retirement, and passed away at the age of 100 in 1994.
The photo shows Irene as a high school senior at City High School in 1911.
Photo courtesy of Forsyth County Public Library Photograph Collection.