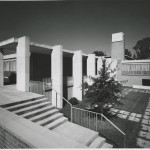 On this day in 1956, Winston-Salem Masons moved into their new Masonic Temple on Miller Street at Stratford Road.
The cornerstone for the building was installed in March 1955, after it was removed from its former location at Fourth and Trade Street.
This building is no longer used as a Masonic Temple, and the property has been sold to a grocery business.  A new Masonic Temple is planned for a site on Country Club Road.
Photo courtesy of Forsyth County Public Library Photograph Collection.