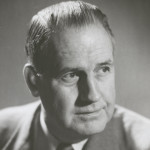 Joseph Worth Bacon was born in Albemarle in 1900, and spent his boyhood in Goldsboro.  He attended Elon College and Trinity College (Duke University).  After graduation he worked as a reporter for the Goldsboro newspaper.
During the early days of his career, he worked for newspapers in Charlotte, Greensboro, High Point before he came to Winston-Salem in 1926 to work for the Winston-Salem Journal as city editor.He later became managing editor at the Winston-Salem Journal and Twin City Sentinel.  
Health concerns in 1959 prompted him to ask for reduced duties, so he was named associate editor for community service.
At his death in 1960, he had worked for the local newspapers for 34 years.  A newspaper staff member praised Worth as a "perfectionist in makeup and an excellent grammarian."  He said that many cub reporters had learned to be accurate reporters from Worth.
Worth was active in professional and civic organizations, and was elected president of the North Carolina Associated Press Council.
Photo courtesy of Forsyth County Public Library Photograph Collection.