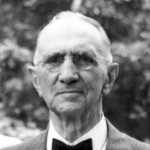 Bernard Jacob "B. J." Pfohl was born on this day in 1866, in Salem, to Christian Thomas and Margaret Siewers Pfohl.
He attended the Salem Boys School and at age fifteen he joined his father in his work at Fries Power Company.  After the death of his father, he joined the Winston-Salem Railway and Electrical Company, which later became Duke Power Company.  He was associated with these companies for 63 years.
B. J. is probably best known for his long career with the Salem band.  He joined the band when he was 13-years-old and played trombone.  He was appointed band director in 1889, and retired from that position in 1945.  He served as director emeritus until his death in 1960.
The Easter band began with 10 members and grew to be an organization with 700 members.
B. J. was instrumental in the founding of the Wachovia Historical Society in 1897.  He was a member of the Kiwanis Club, and was a life-long member of Home Moravian Church.
He married Sarah Elizabeth Traeger in 1901.
Photo courtesy of Forsyth County Public Library Photograph Collection.