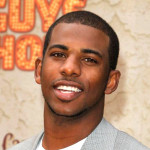 Christopher Emmanuel "Chris" Paul was born on this day in 1985, in Winston-Salem.  He graduated from West Forsyth High School in 2003, and attended Wake Forest University for two years.
Chris Paul played varsity basketball at West for two seasons, was a McDonald's All-American, and won a scholarship to Wake Forest.
He was selected in the first round of the NBA draft, 4th overall pick, by the New Orleans Hornets.  He played for the Hornets from 2005 to 2011.  He is currently playing for the Los Angeles Clippers.
Chris has received many honors and awards during his playing career.  He was named NBA Rookie of the Year (2006), was a seven-time All-Star, an All-Star Game Most Valuable Player, and a multiple-time All-NBA and All-Defensive team honoree.
He led the Hornets to the second round of the 2008 NBA Playoffs, and he won two Olympic gold medals with the United States national basketball team.  He currently serves as the National Basketball Association president, and lives in Bel Air, California.