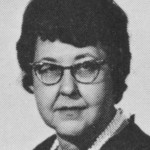 Frances Strupe Wolff was born in Lewisville in 1911,  and graduated from R. J. Reynolds High School.  She had postgraduate musical training at several institutions.
Mrs. Wolff taught music at Mocksville High School and at William R. Davie Elementary School.  She taught the primary choir at College Park Baptist Church for several years.  She and her husband, Berger, were charter members of College Park Baptist Church.
She founded Wolff Music Studios on Reynolda Road where she taught music for 34 years.
Frances was a member of the Daughters of the American Revolution and the Women's Club.
She passed away in 1990.