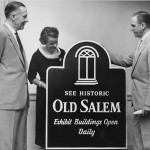 On this date in 1950, the Board of Trustees of Old Salem, Inc. held its first meeting.  They established a nonprofit organization to acquire and preserve or restore "the historical monuments, buildings, sites, locations, areas, and/or objects" located in Forsyth County, North Carolina.
Thus began the movement that has resulted in the restored Moravian town of Old Salem, a living museum of Moravian life in the 18th and 19th centuries.
The original historic district was expanded twice since its founding, and approximately 150 structures were removed that did not contribute to the historical landscape.
The above photo was made in 1957 and shows Arthur Spaugh, Copey Hanes, and Ralph Hanes with the sign announcing that the Old Salem exhibit buildings are open.
Photo courtesy of Forsyth County Public Library Photograph Collection.