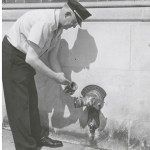 On this date: January 31, 1968.  Retiring Fire Chief Lester Cardoss Williams was honored at a reception.   Chief Williams retired after 42 years and nine months of service with the Winston-Salem Fire Department.
Williams was born in Yadkin County in 1902.  He came to Winston-Salem in 1925 and worked for R. J. Reynolds Tobacco Company and the fire department.  He worked in all the departments of the Winston-Salem Fire Department.
He was an officer in the Southeastern Fire Chiefs Association and the State Association of Fire Chiefs.  Williams passed away in 1984.
The photograph shows Captain Williams in 1956 when he was making a fire inspection.
Photo courtesy of Forsyth County Public Library Photograph Collection.