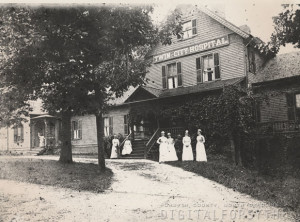 Mary Louise Knouse Yorke was born in Forsyth County in 1881. She was educated in the local public schools and attended Salem College.
She was one of the first graduates of the Twin City Hospital School of Nursing, graduating in 1904. She worked as a supervisor at City Hospital, and also worked in hospitals in Tennessee and Greensboro. In 1930 she went to Alaska and worked as a missionary nurse for 10 years.
When she returned from Alaska in 1940, she worked as superintendent of the Salem Home until her retirement in 1952.
She was married to W. L. Yorke who died in 1903. She and her husband had one son. She died in 1956.
Photo courtesy of Forsyth County Public Library Photograph Collection