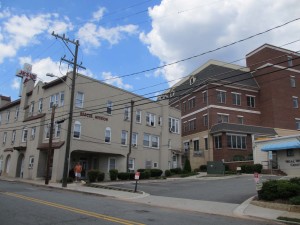 On this day in 1967, the Winston-Salem Rescue Mission was dedicated at 824 North Trade Street.
The dedication service had hymn singing and speech making.  Dr. Gilbert R. Stenholm of Bob Jones University said that the purpose of "this downtown arm of the church is to offer a refuge for men who are spiritually and physically needy."
The mission had a kitchen and bathroom facilities, a main meeting room and a dormitory in the basement with beds for 32 men.
At some point in its history, the Rescue Mission moved to 717 Oak Street.
And, also on this day in 2008, the Winston-Salem Rescue Mission New Life Center was dedicated at 718 North Trade Street.  The 22,600-square-foot building has transitional apartments for men who are trying to get their lives back on track after being homeless.
The Rescue Mission continues to run its former shelter and food pantry at 717 Oak Street.
The above photo shows the former shelter on Oak Street (left), and the new shelter on Trade Street (right).
Photo by Molly Grogan Rawls.