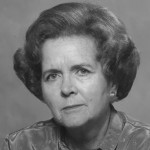 Elizabeth Stuart Hedgecock was born on this day in 1919 in Forsyth County.  She attended the local schools and graduated from Salem College.  She received her graduate training in dietetics at Philadelphia General Hospital, and worked as administrative dietitian at the University of Maryland Hospital in Baltimore.
She was the head of Salem College's home economics department when she began writing on a part-time basis for the Winston-Salem Journal.  At that time she began using a pen name, "Beth Tartan."  She became the newspaper's full-time food editor in 1948.
In her newspaper writing, she discussed mealtime, food safety, food trends, and printed recipes that made their way into her numerous cookbooks and booklets of Beth Tartan's "best recipes."
Elizabeth won numerous honors and awards during her 44-year career.  In 1966 she was inducted into an international gourmet society that was founded in Paris in 1248.
For her readers, she was the ultimate authority on all things food-related.  Her newspaper columns were always a popular read, and helped teach people to cook and appreciate different types of food.
Elizabeth married Coy Sparks in 1951.  She passed away in 1992.
Photo courtesy of Forsyth County Public Library Photograph Collection.