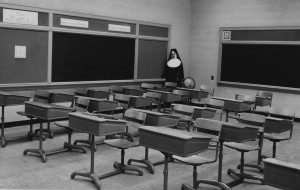 On this day in 1954, St. Leo's Catholic Grammar School was dedicated.
The school is located at 333 Springdale Avenue, next to St. Leo the Great Catholic Church.  The school opened in 1953, and celebrated the 60th anniversary of  its operation in 2013.
In 2005, St. Leo was the first Catholic school in the Charlotte diocese to be awarded the status of Blue Ribbon School by the U. S. Department of Education.  This is an annual recognition that is granted to only 50 non-public schools, for academic excellence.
And, in 2013, Today's Catholic Teacher magazine recognized St. Leo Parish School as a School of Innovation awardee.
Today St. Leo Parish School is the oldest Catholic school operating in the Winston-Salem area.  It offers Catholic-based education for preschool through 8th grade.
The photo shows one of the classrooms in the new school.
Photo courtesy of Forsyth County Public Library Photograph Collection.