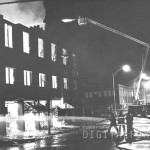 A fire at Brown's Tobacco Warehouse on North Trade Street on this day in 1969 transformed the downtown landscape.
Brown's Tobacco Warehouse was destroyed, as were other nearby businesses, such as W. G. White Grocery.
To see more images of the fire, search www.digitalforsyth.org with key words: 1969 fire Brown's.
Photo courtesy of Forsyth County Public Library Photograph Collection.