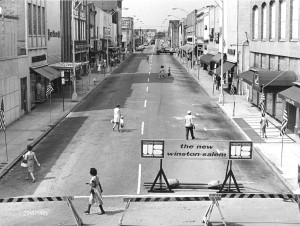 On this day in 1970, the 400 block of North Trade Street was closed to vehicular traffic.
The street will become a pedestrian mall with a brick-patterned pavement.
Construction is scheduled to begin immediately.
Pedestrian malls were becoming popular in many cities, and the 400 block of Trade Street was selected for Winston-Salem's foray into this downtown modernization.
The Trade Street Mall lasted about ten years, during which time the businesses in this block shriveled from fewer and fewer customers.  Closing the street to vehicles meant customers had to find a parking space elsewhere, then walk to the store, rather than parking on the street.  Also, vagrants found the mall to be a new hangout place, so customers, particularly female customers, avoided this area completely.
The street was later reopened to vehicular traffic, but this once busy section of downtown lost businesses and customers, and never recovered.
Photo courtesy of Forsyth County Public Library Photograph Collection.