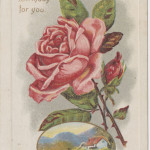 Stella Phelps Nance was born on this day in 1879, in Forsyth County, to Melgron and Nancy Grubbs Phelps.  Her father was a Confederate soldier who was twice wounded.  When he returned from the war, he was a farmer and a carpenter in the Oldtown community.
Stella attended Salem College, and she later studied law at the University of North Carolina.
Stella married Douglas A. Nance in 1904.  Her husband was a lawyer, and after their marriage, Stella attended UNC law school, and studied law in her husband's office.
She passed the bar exam in 1917, and practiced law with her husband in Winston-Salem, until his death in 1924.  This made Stella the first woman to practice law in Winston-Salem.
She was the eleventh woman lawyer in North Carolina.
Stella passed away in 1960.
Birthday postcard courtesy of Wayne and Louise Biby.