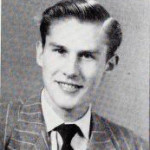 Clark Odell "C. O." Taylor was born on this day in 1931, in Winston-Salem, to Gaither Eugene and Lollie Hawkins Taylor.
Clark graduated from Gray High School and from East Carolina University.  He also served four years in the United States Navy.
Clark taught and coached at R. J. Reynolds High School for 30 years.  He earned many honors during his teaching and coaching career.  He was named N. C. Tennis Coach of the Year in 1979, and N. C. Industrial Arts Teacher of the Year in 1982.
He is recognized on the N. C. Sports Wall of Fame.  He was inducted into the Winston-Salem Sports Hall of Fame and the Reynolds High School Sports Hall of Fame.
He was an active member of First Christian Church.
He was married to Frances R. Taylor, and he passed away in 2013.
The photo above shows Clark as a student at Gray High School.
Photo courtesy of Forsyth County Public Library Photograph Collection.