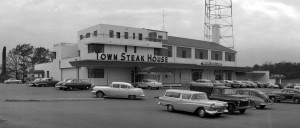 On this day in 1956, an announcement was made that the Smokehouse, on South Stratford Road, has been completely remodeled.  The building will become part of the Thruway Shopping Center by the end of August.
The new tenants of the building will be WTOB, City National Bank, Sammy's Kitchen, General Electric retail office, Town Steak House, and Thruway Barber Shop.  There was one additional space available for rent.
The Thruway Theatre joined this group of businesses later.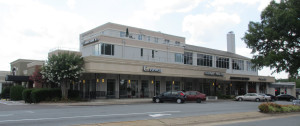 This building exists today with new tenants and a new look after several renovations.
Black and white photo courtesy of Forsyth County Public Library Photograph Collection.
Current photo by Molly Grogan Rawls.