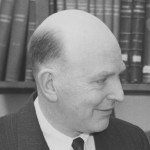 Charles Henry Babcock was born on this day in 1899, in Indiana, to Charles H. and Ella Park Babcock.
He graduated from the University of Pennsylvania with a B. S. degree in 1920.  He worked for Guaranty Trust of New York in New York City.  Then he was vice-president of the Mah-Jongg Corporation of America in San Francisco.  He worked for Guaranty Trust of New York in Philadelphia, then established his own brokerage firm in 1931, called Reynolds and Company, which became Reynolds Security Inc.
He served as a private in the U. S. Army in World War I, and as a major in World War II.  He was chief financial officer of the American Headquarters of the European Theatre of Operations.
Charles married Mary Reynolds in 1929.  They lived in Greenwich, Connecticut, then moved to Winston-Salem where Henry became involved in many community, cultural and business activities.  He was a director of Piedmont Publishing Company, R. J. Reynolds Tobacco Company, and Security Life and Trust Company.
After Mary died in 1953,  a charitable trust was established in her name, and Charles was president-treasurer of the Mary Reynolds Babcock Foundation.
Charles played a major part in in bringing Wake Forest College to Winston-Salem.  He also contributed to the restoration of Old Salem and Bethabara.
Charles married Winifred Penn Knies in 1954.  Charles passed away in 1967.
Photo courtesy of Forsyth County Public Library Photograph Collection.