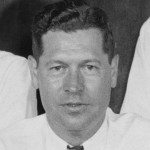 George Dallas Lentz was born on this day in 1906, in Granite Quarry, to Adam Wiley and Maggie Lentz.
He came to Winston-Salem as a young boy, and graduated from R. J. Reynolds High School, where he was an athlete.
After graduation, George worked in the family moving business, and served for 30 years as president of Lentz Transfer and Storage Company.  He retired in 1970.
George served as mayor of Winston-Salem from 1945 to 1949.  He was defeated in the 1949 primary by Marshall Kurfees, but was  appointed in 1951 to fill the unexpired term of a alderman.  He served as an alderman until 1961.
He was also on the local Board of Education for two terms, president of the Winston-Salem Jaycees, president of the North Carolina Jaycees, and was elected the first president of the North Carolina Household Goods Movers and Warehousemen Association.  He served in the Kiwanis Club for over 29 years.
George passed away in 1988.
Photo courtesy of Forsyth County Public Library Photograph Collection.