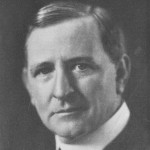 Edward W. O'Hanlon was born on this day in 1870, in Fayetteville, to Andrew Jackson and Amelia Atkins O'Hanlon.
He came to Winston in 1894 after earning his pharmacist degree.  He bought the L. E. Steer Drug Company and established E. W. O'Hanlon Inc.  He operated the business from the three-story S. A. Ogburn Building.
He married Nancy Critz O'Hanlon in 1904.
A fire in 1913 damaged the O'Hanlon Building, but repairs were made and the business continued to operate.  Then, a fire in 1914 damaged the building beyond repair.  The drug business was temporarily relocated, the building was demolished, and a new building was constructed in 1915 at the same location.
The drug store was a popular spot for gathering through the years.  Many businessmen and other professions had offices in the building's higher floors.
Edward O'Hanlon passed away in 1958.
The popular drug store closed in 1961, and today the city's first skyscraper houses a restaurant and business offices.
Photo courtesy of Forsyth County Public Library Photograph Collection.