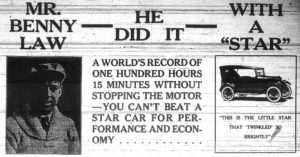 If you were to travel back through time to June 1st, 1924, you would be opening your Sunday issue of the Winston-Salem Journal.  
If you were an automobile fan, you already knew what the headlines would be: "Mr. Benny Law – He Did It – With a 'Star.' "  If you were not an automobile aficionado, the newspaper supplied all of the details.
In fact, an entire page was devoted to proclaiming the news that Benny Law set a world's record of driving a Star vehicle for 100 hours and 15 minutes without stopping the motor.  Benny covered 1,524 miles on 74 gallons of gas, with an average of 20.6 miles per gallon.  He used 2 gallons of oil for an average of 190 miles per quart of oil.
The George H. Willard Motor Company, located on N. Main Street, hired Benny to drive the Star vehicle to demonstrate its performance and economy.  Benny Law was a native of Roanoke, Virginia and a former automobile mechanic.  After taking part in the endurance test (for both Law and the vehicle), Benny composed a letter proclaiming the driveability and comfort of the Star.  The letter (shown below) was also printed in the newspaper.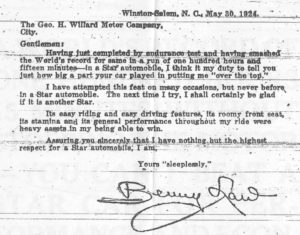 A crowd of about 8,000 people gathered at Railroad Jones Station No. 3 on the corner of Main and 2nd Street to witness the end of the journey.  The crowd and the car are shown in the photos below (the second photo is a close-up of the car and the crowd).
When Benny finally completed his journey, he was whisked away to get his much-needed sleep.  Arrangements were made for a bed (supplied by H. H. Jones Furniture Company) to be set up in a vacant office on W. Fourth Street.  Onlookers watched him sleep while Benny's traveling companion and manager, Jack Craig, kept watch and answered questions. Around midnight, Benny moved to the Zinzendorf Hotel to continue his sleep.
Benny's goal was to break the endurance record set by "Daredevil" Harold Lockwood in Philadelphia just 2 weeks earlier, set at 100 hours and 11 minutes.
The endurance test ended successfully for Law (who broke Lockwood's record) and for Willard Motor Company.  Several of the Star vehicles were sold right after the test, going for $640 (Sport Model), $690 (Coupe) and $540 (Touring).
Benny continued to make headlines in other cities during the following months.  In Portsmouth, Ohio, the Portsmouth Daily newspaper followed Benny's endurance test, this time in a Maxwell Touring Car.
Stay tuned for the next historical post on June 15th: The VP and the Cowgirl Come to Town.