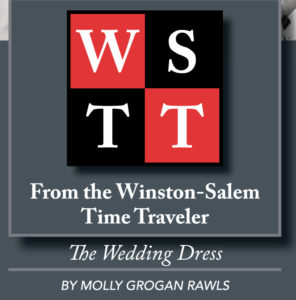 For many women, June is synonymous with weddings and recalls (hopefully good) memories of their wedding.
And part of those good memories is the process of selecting the wedding dress for their special day.  It could be a purchased dress from a local dress shop or a dress that is passed from a relative and reworked to make it fit and maybe update the look of the dress.
The June feature for the Winston-Salem Time Traveler article in Forsyth Woman Magazine is all about the wedding dress.  It tells the story of five brides who wore the same special dress and three generations of brides who wore the same special (reworked) wedding cap.
Find a copy of the June issue of Forsyth Woman Magazine and read about the women who have a special bond because of their shared wedding dress and cap.
Stay tuned for the next historical post on June 15th: The VP and the Cowgirl Come to Town