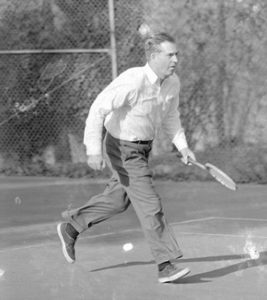 Does the name Henry A. Wallace ring a bell?  While many of us can name the United States Presidents, the vice-presidents tend to be forgotten if they are not elected to the office of president or if they don't continue to hold elective office.
Henry A. Wallace served as vice-president under Franklin Roosevelt.  He was a member of the Republican Party, the Democrat Party, and the Progressive Party – not all at the same time, of course. In April 1941, just three months after he took office, Mr. Wallace came to Winston-Salem to speak at the annual meeting of the Winston-Salem Federal Home Loan Bank.  A crowd of over 700 banking officials and Governor Broughton filled the ballroom of the Robert E. Lee Hotel to hear Vice-President Wallace.
Henry Wallace previously studied animal husbandry and later served as Secretary of Agriculture under Roosevelt, so he especially appreciated the opportunity to visit several of the large farms in Forsyth County.  He toured farms belonging to William Neal Reynolds, R. E. Lasater, T. Holt Haywood, and D. J. Lybrook.  He was also able to don his tennis shoes and play tennis on the court at the home of Ralph Hanes.  The photo above shows the vice-president in tennis action.
Vice-President Wallace later became Secretary of Commerce, then he edited a magazine before running unsuccessfully for president in 1948.  Following his defeat, he returned to farming.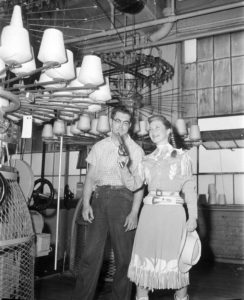 Many boys and girls had cowboys and cowgirls as their heroes in the early days of television.  While there were several cowboys to watch on television and at the movies, there were only a few cowgirls.  One of the cowgirls was Gail Davis, but she was better known as the woman who played Annie Oakley on television (1954-1956).  She was also a featured performer in Gene Autry's traveling rodeo, being a talented horseback rider.  In fact, the rodeo brought her to Winston-Salem in 1959, along with Dale Robertson, star of Tales of Wells Fargo.
Gail Davis began her career in a comedy movie, but soon appeared in television westerns such as The Lone Ranger, The Range Rider, The Adventures of Kit Carson,  Death Valley Days, and The Gene Autry Show.  In fact, Gene Autry supported her "cowgirl" career because he thought girls should have a Western star of their own.
When the rodeo came to Winston-Salem in 1959, Gail Davis visited local businesses, such as Hanes Knitting Company, as seen in the photo above.
Gail Davis also appeared in an episode of The Andy Griffith Show as a sharpshooter.  She was Thelma Lou's cousin, Karen, and was considered to be a suitable match for with Andy in the episode titled "The Perfect Female."
Gail was typecast in western roles so she retired from acting and made public appearances at Western memorabilia and film festivals.
See the Winston-Salem Time Traveler articles in forthcoming issues of Forsyth Woman Magazine (July, August, & September 2017) about more notable people who came to Winston-Salem.
Photos courtesy of Forsyth County Public Library Photograph Collection.
Stay tuned for the next historical post on July 1st: Road Trip: Myrtle Beach and the Pavilion.