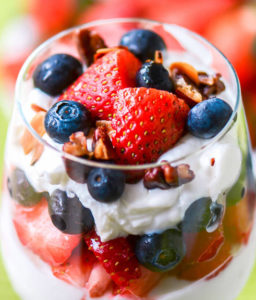 Just in time for another patriotic holiday – red, white, and blue parfaits are colorful and tasty.  And, they use fresh and delicious fruit.  Make these parfaits and celebrate America's birthday while enjoying an easy-to-make dessert.
Red, White and Blue Parfaits
Ingredients for 2 parfaits:
12 oz. plain Greek yogurt
¼ cup sugar or sugar substitute
¼ cup granola
Sliced strawberries, about 1 cup
Fresh Blueberries, about ½ cup
Directions:
Mix together the yogurt and sugar or sugar substitute in a bowl.
Begin to assemble the parfaits by spooning a small amount of the granola into the bottom of the parfait glass. Next, add ¼ of the yogurt mixture, and then add ¼ of the strawberries. Then add ¼ of the blueberries. Repeat the layers for the first glass.  Then repeat the steps for the second glass.
An alternative ingredient would be to toast oats and chopped pecans to replace the granola.  Add brown sugar to the oats and pecans for added sweetness.  Vanilla yogurt could also be used and the sugar could be omitted (in the yogurt).
Enjoy!
Stay tuned for the next historical post on July 1st: Road Trip: Myrtle Beach and the Pavilion.