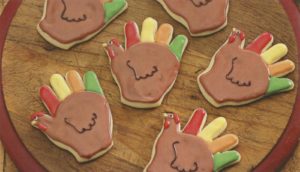 If you're a parent, I bet that you have at least one art item featuring your child's handprint that has been made to look like a turkey.  I also bet that you have more than one, and if multiplied by the number of children, you have a rafter of turkeys packed away in a box of school memorabilia.  By the way, "rafter" is the name for a group of domesticated turkeys, which these would be, having lived in your home for several years.   Here's a fun cookie to bake, either using a child's handprint, a cookie cutter, or your own handprint, and colorfully decorated.
Handprint Turkey Cookies
Ingredients:
¼ cup shortening
¼ cup butter, softened
1 cup sugar
1 egg
1 tsp. vanilla extract
2-2/3 cups all-purpose flour
1 tsp. baking powder
½ tsp. baking soda
½ tsp. salt
¼ tsp. ground nutmeg
½ cup sour cream
Glaze:
5 cups confectioners' sugar
3 to 4 Tbsp. water
2-1/4 tsp. light corn syrup
¾ tsp. vanilla extract
Red, yellow, orange, green and brown gel food coloring
Directions:
In a mixing bowl, cream shortening, butter, and sugar. Beat in the egg and vanilla. Combine the flour, baking powder, baking soda, salt, and nutmeg, and then add to the creamed mixture alternately with sour cream. Cover and refrigerate for 2 hours or until easy to handle.
Use a hand-shaped cookie cutter or trace a child's hand onto a piece of cardboard with pencil and cut out for a pattern.
On a well-floured surface, roll out dough to a ½-inch thickness. Either use a sharp knife to cut around the cardboard hand pattern in dough or use a cookie cutter to cut out hand shapes.
Place 2 inches apart on ungreased baking sheets. Bake at 425 degrees for 7-9 minutes or until lightly browned. Remove to wire racks to cool.
In a mixing bowl, combine the glaze ingredients and beat until smooth. Set aside 1 teaspoon of white glaze for eyes. Place ¼ cup of glaze into each of four bowls. Tint one red, one yellow, one orange, and one green. Place 1 tablespoon of glaze in another bowl and tint dark brown. Tint the remaining glaze light brown.
Frost the palm and thumb of each cookie light brown. Frost each finger a different color, using red, yellow, orange, and green. Place remaining yellow glaze in a pastry or plastic bag. Cut a small hole in the corner of the bag. Pipe a beak on each thumb.
In the same way, use dark brown glaze to pipe a pupil in the center of each eye and to pipe wings in the center of each cookie. Use remaining red glaze to pipe wattles on each thumb. Let dry completely.
Yield: About 3 dozen. Now, that's a rafter!
Stay tuned for the next historical post on December 1st.