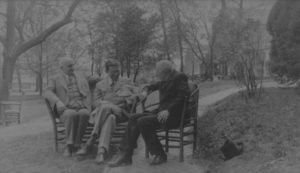 The photograph above features three men and a baby.  The men are dressed in suits and are sitting in chairs with trees in the background.
There is little mystery to this photograph, as the men are identified by name on the back of the framed print (although not in the usual left to right order), and it is dated May 1928.
Seated in the chairs are (left to right): Bishop Howard Edward Rondthaler, his son Theodore Edward Rondthaler, and his baby son Howard Mayro Rondthaler, and Bishop Edward Rondthaler.  Bishop Rondthaler is the father of Howard Edward, grandfather of Theodore, and great-grandfather of Howard Mayro. They are seated in the area of Salem Square, and some of the Salem College buildings and Home Moravian Church can be seen in the background.  The setting of the photo is very appropriate, considering the backgrounds of some of the men.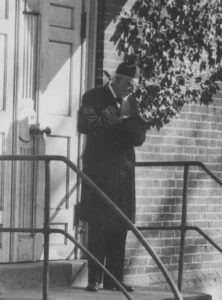 Bishop Edward Rondthaler (1842-1931).  A native of Pennsylvania, Bishop Rondthaler, with his family, came to Salem in 1877 to work as pastor of Home Moravian Church. He continued in this position until his death in 1931.  This much beloved man presided over the Easter Sunrise Services during this entire time as pastor and only missed one service when he visited the Holy Land in 1889 during Easter.  He made the trip with his son, Howard.  Read more about Bishop Edward Rondthaler at http://winstonsalemtimetraveler.com/2014/07/24/july-24-happy-birthday-bishop-edward-rondthaler/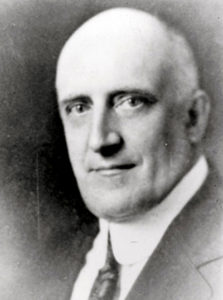 Bishop Howard Edward Rondthaler (1871-1956).  Born in New York, son of Edward and Mary Jacobson Rondthaler,  he came to Salem as a child in 1877.  Howard served as assistant pastor of Home Moravian Church and pastor of several other Moravian churches in North Carolina.  He was a professor at Moravian College and Theological Seminary in Bethlehem, Pennsylvania, and he served as President of Salem College and Academy for 40 years.  The college grew in attendance and the physical plant increased dramatically during his tenure.  Howard also held many offices in Winston-Salem organizations.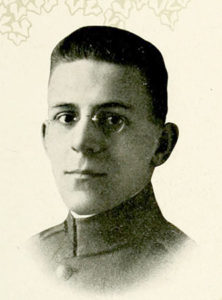 Theodore Edward Rondthaler (1899-1966).  Born in Forsyth County, Theodore Edward was the oldest child of Howard Edward and Katherine Boring Rondthaler.  After considering several possible career avenues, Theodore decided to become a teacher.  While he was at home during Christmas of 1924, he met and fell in love with his father's secretary, Alice Keeney, and they were married in 1927.  Theodore was a school principal in Forsyth County and his wife worked as a teacher.  And, they were teachers at Ocracoke for many years. Theodore was also a musician and an outdoorsman.
Howard Mayro Rondthaler (1928-2008).  Howard Mayro (no photo available) was born in Forsyth County to Theodore Edward and Alice Keeney Rondthaler.  Howard, called "Rondy," served in the Navy during World War II.  After graduation from college, Rondy worked at a district ranger station in the Mount Hood National Forest.  He later moved to Portland, Oregon and continued his work with the Mount Hood National Forest as a trail coordinator and trails specialist.  He was married first to Jane Doar and secondly to Carolyn Droege Richards.  He and his first wife had three daughters.
Thank you to Rt. Rev. Lane A. Sapp of Calvary Moravian Church for sharing the 4-generations Rondthaler photograph with the Forsyth County Public Library Photograph Collection.